At Aqua Pool & Patio we take great pride in the pools we build and in the team that creates inspiring and unique outdoor living spaces. While we feel strongly that feedback from our customers are our strongest accolades, we also appreciate our industry peers, independent media companies and trade organizations who have recognized our commitment to delivering excellence. The following are some of those awards.
Pool Construction Awards
Aqua Pool & Patio has been consistently recognized as one of the best pool builders not just in Connecticut, but in the United States. For example, in 2021 Aqua Pool was ranked by Pool & Spa News, the premier trade publication for the industry, as the 14th best pool builder in the U.S.
Aqua Pool was the top ranked Connecticut company to make the national ranking. It's also the top ranked company based in New England. In compiling the annual list, Pool and Spa News takes a comprehensive approach to scoring. Builders are ranked based on five different criteria: residential construction revenue, employee training and retention, involvement in organizations both within and outside of the industry, philanthropic community involvement, and an active and engaging web presence, including social media. These criteria recognize the many elements that contribute to a company's success among its customers, community and the industry as a whole.
Family Business of the Year
Aqua Pool & Patio was recognized in 2019 as the Family Business of the Year by the South Windsor Chamber of Commerce. Michael Giannamore, pictured center, was on hand to accept the award along with his wife Sabine Giannamore, pictured on the left. Michael is the second generation of the Giannamore family to own and operate Aqua Pool. Michael purchased the business from his father, Ronald Giannamore, in 2018, but has been working at the company since he was a child. For additional details on the more than 50-year history of Aqua Pool, click here.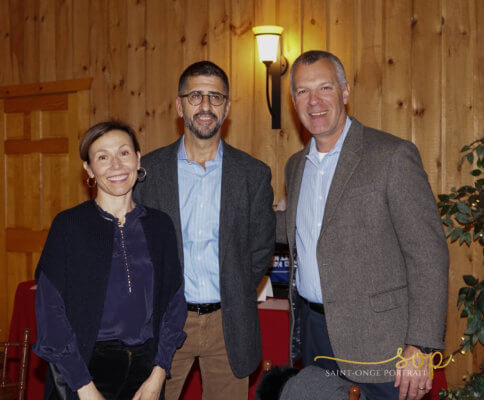 Pool Service Awards
Aqua Pool & Patio has been consistently recognized by the Northeast Pool & Spa Association (NESPA) for Outstanding Achievement for its pool service program, including in 2019 and 2020. On this page, you can see some of the plaques we've received to honor our service department. In this program, NESPA surveys pool service customers by asking them to rate their experience over the last year. The companies were evaluated on six categories of service: response time, service performance for repairs, employee appearance and attitude, recommendations, and overall performance.
Aqua Pool & Patio has been ranked by Pool & Spa News for its service offerings as well. In 2020, we ranked at No. 17 on this national list, the highest ranking for any pool company in Connecticut and New England. This ranking, which first began in 2018, scores each pool service company based on revenue, staff management and training, industry involvement, web presence, community contributions and customer service.