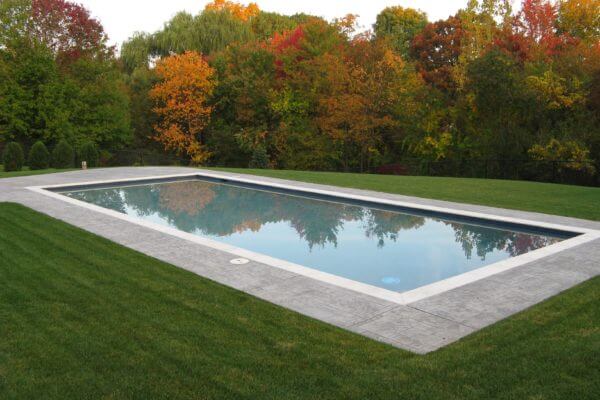 Now that we have already officially marked the passage into fall and even though the weather might not have quite caught up yet, it is still a good idea to get your fall pool plans in order. Here are a few pointers for getting your pool ready for the end of swim season.
Adjust Your Schedule
Now that the length of the days is beginning to shorten, be sure to adjust your automatic pool settings to accommodate. With the sun going down earlier, you can likely run your pool pump less and conserve electricity for next summer. Your overall pool maintenance schedule will also likely begin to change with fewer shockings and other treatments becoming less necessary. Just because you might not be swimming every day for the next several months, this does not mean you can let your pool water testing go. Other variables like rain or fallen leaves can throw of the chemical balance of your pool and introduce things like algae that are more difficult to manage of you have not kept up appropriate water quality.
Attention to Leaves
As the trees and shrubs begin to let go of their foliage, it is critical that you stay on top of a regular debris clean-up program. As mentioned above, leaves and other debris can introduce nutrients to your pool water that support the growth of algae, but they can also stain your pool surface and deck in ways that will become difficult to remove next summer. A few minutes with your pool net and a brush every day is a great way to stay on top of this.
Review Safety
Take advantage of the recent end to the season to review how safe and secure your pool is. Check your deck for any cracks or loose tiles that a family member or guest can trip on. Check your pool equipment, particularly any light housings, to make sure they are sealed and secure. Check any ladder or hand rails to make sure they are tightly anchored to the side of the pool.
More than anything, do not go about your fall pool preparations thinking about this being the last time you will enjoy the pool until next year. Make plans for bringing out the fire pit and hosting a poolside fall marshmallow roast, or look into that pool heater you have been eyeballing for the last few years to extend your swimming season just a little bit longer. The change in season does not mean you cannot still engage with your pool in fun and productive ways. A big part of pool enjoyment is being near the pool. The sound of moving water, the reflection of lights in the evening, and the pleasure of sitting in a warm hot tub on a cool evening make the fall one of the best times of the year to be a pool owner. Just because you do not get wet does not mean you're not using your pool. We are here to help you make the most of your pool year round.