FROM START TO FINISH: AN AQUA POOL PROJECT IN SOUTH WINDSOR
This week we thought it would be fun to give everyone an insight into a typical project from start to finish. This recent pool build was located in South Windsor, CT. You can see from the image below that there's a terrific wooded view from the yard but the property line is relatively close to the house. This means that in order to build, Aqua Pool had to consider placement in a location close to the house: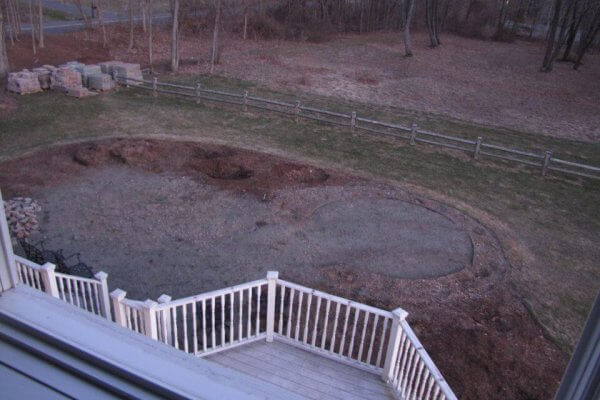 Since the yard had recently been landscaped with an outdoor paver-seating area and fresh plants, we were careful to remove all usable materials and save them for use after the pool was installed.
During excavation it was discovered that in the prime location for the pool, remnants of an old tobacco barn were buried. Due to restrictions on the property line, we decided to excavate this buried material and backfill the yard with a flowable fill combined with cement blocks to provide the necessary foundation for the gunite pool.
In the image below, you can see the process beginning to unfold as we brought in the heavy machinery to dig: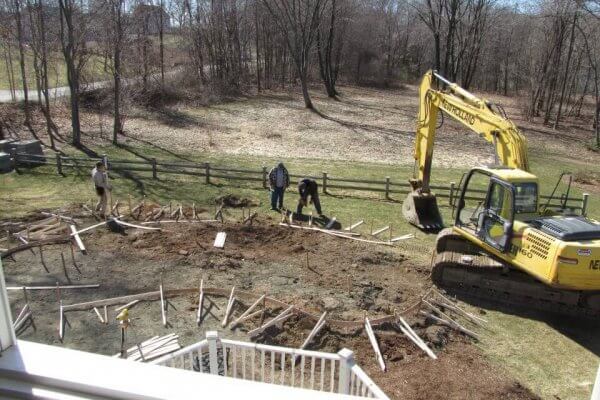 In the end, we excavated over twenty feet down in order to build a five foot deep pool. Now that's solid planning! Check out the hole: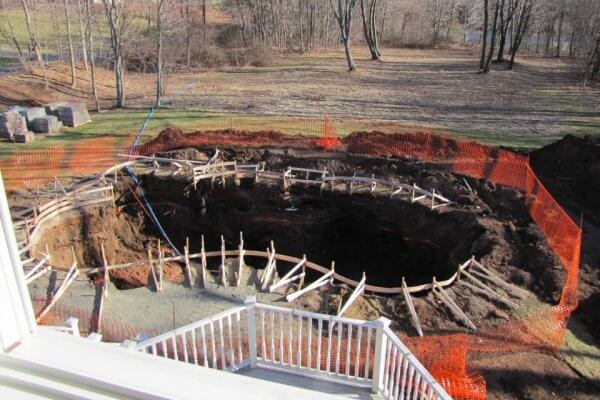 Since the homeowners have two boys in high school, they wanted something aesthetically pleasing but also structurally sound, hence their selection of gunite. They knew that with a bustling home life, their family would use the pool more frequently than just the summer months. They also wanted to include a basketball net, anchor sockets for a volleyball net, and a spa for relaxing.
You can see the built in spa really take shape once we got to the gunite phase. As a combination of cement, sand, and water, applied through a pressure hose, it creates the perfect hardy and dense surface for your pool: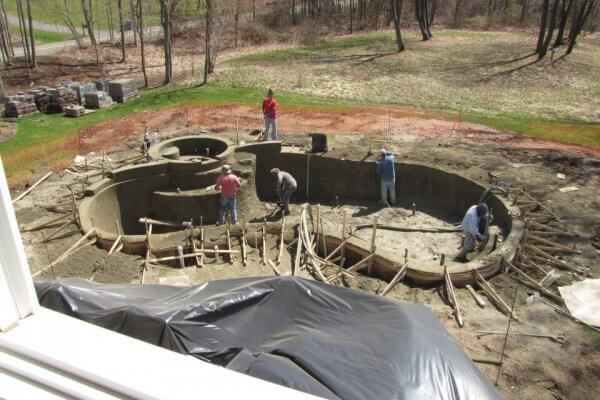 As the process unfolded, it was exciting to see the actual pool take shape. It's easy to imagine the fun to come spending time by the pool, especially once its full of water: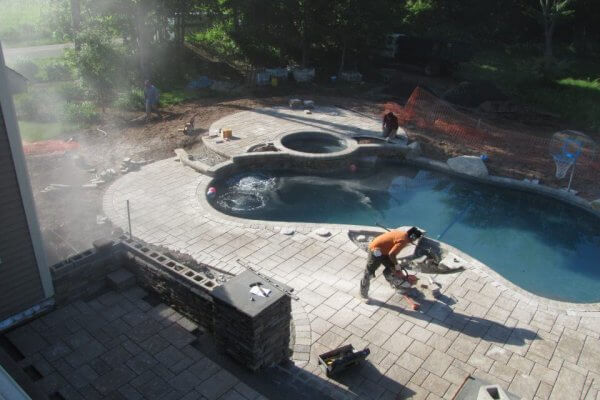 With the raised spa, we finished out the deck with concrete pavers and coping. It really starts to come together at this stage.
Finally, all of the finishing touches were made including replanting of the landscape, and decorating with furniture and other backyard accessories. Not to mention outfitting the brand new pool with top of the line equipment. For this project we installed a Paramount in-floor cleaning system, a Variable Speed and Energy Efficient Pump, and a Jandy heat/filtration system.
And when all of the hard work pays off, there's a beautiful finished product: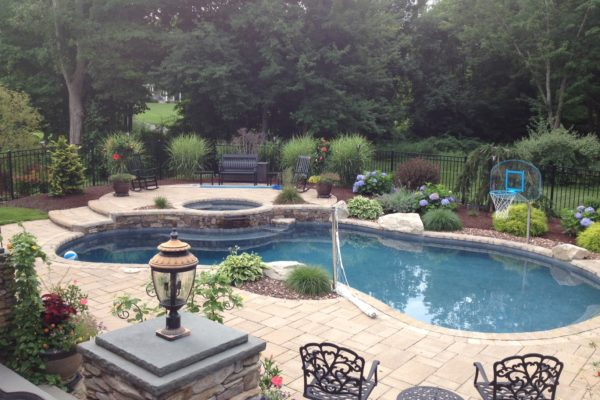 We see it all of the time but after each and every single one, it feels great to see a beautiful project come to fruition. At Aqua Pool, we take pride in the thoughtfulness and quality of our work.