THE BENEFITS OF A BACKYARD WATERFALL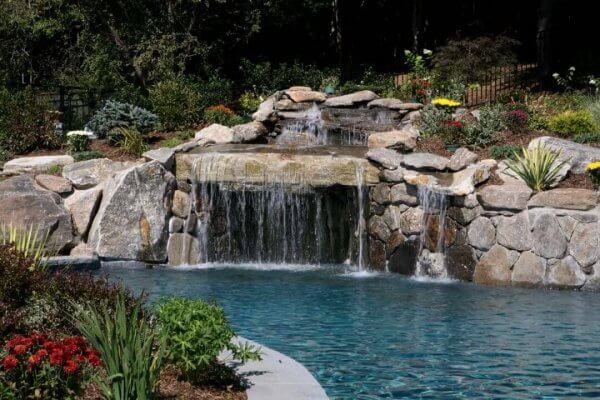 Adding an exciting element like a backyard waterfall to your pool is a great way to introduce a host of new benefits to your private oasis. Several of the most popular reasons why people consider adding large water feature such as a waterfall or fountain to their space are as follows:
• Adds Aesthetic Appeal
A well designed and executed waterfall provides a unique setting for your property. Adding a little something extra special to your existing pool enhances the sense of aesthetics in your backyard.
• Low Maintenance
If you are already taking care of a pool, the added tasks that accompany the addition of a waterfall are minimal and easily manageable.
• Focal Point
As mentioned above, a waterfall can greatly enhance the aesthetic design of your backyard space and a spectacular waterfall can really provide a focal point for the eye to embrace your outdoor environment.
• Contributes to Ambiance
The soothing sounds of trickling water can develop atmosphere by encouraging a relaxing environment complete with the natural beauty of landscape.
• Space
Waterfalls don't actually require much space and can be added on to your existing pool for a new look that can reinvigorate your environment into a lush landscape that provides a functional and enjoyable space to be used year round.