THE BENEFITS OF A BEAUTIFUL BACKYARD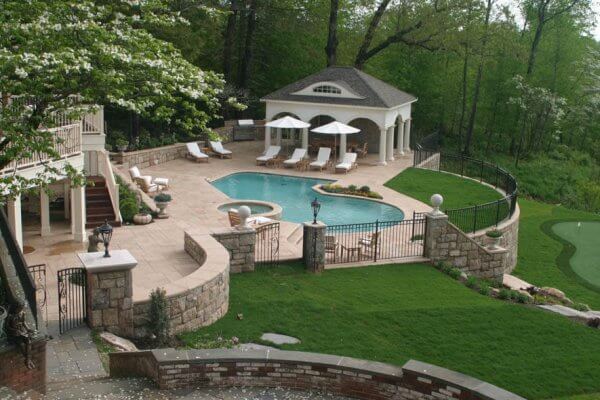 At Aqua Pool and Patio, we work hard to ensure our backyard projects suit your dreams. Whether you want a quiet and relaxing space to lounge in on the weekends alone or with family, or a delightful entertaining yard for hosting friends and neighbors to share food and conversation, and make memories together, we understand the key elements that make an oasis your own. To help get you inspired about what you can do with your space, here are several reasons it's worth it to invest in your backyard:
Pool Parties
With a hot tub and a pool, there's nothing better than a pool party for friends and family. Call us nostalgic but relaxing and splashing around in a beautiful backyard is the epitome of relaxation.
Quiet Place
When you aren't busy throwing a pool bash, having your own private oasis for contemplation, meditation, and reflection can do wonders for your health and wellbeing. Picture yourself coming home from the hustle and bustle of the workday and spending an hour or two relaxing in your yard before cooking a delicious meal with your family. Sounds great right?
Exercise
Just as important as your mental health, diving into your own pool and swimming laps is an excellent workout for your body. Helping to build long and lean muscles without the negative impact of sports like jogging, swimming is a great way to get yourself in shape and stay healthy.
Grilling
There's something extremely satisfying about cooking outdoors. Maybe it's the smoke or the unique taste of food off the grill, but at Aqua Pool, we find it to be a relaxing experience firing up the grill and making something scrumptious.
Gathering
Last but not least, one of the key benefits in having a beautiful outdoor space is how it brings your family together to socialize, play, and spend quality time. Now that's worth working for!